Sorry my little blogger has been silent the past couple of days... I know Purity Week was supposed to have ended; however, I have a giveaway in this post and some closing thoughts to come.
I know it's a heart/parent/guardian thing to determine a sort of "reminder" for Purity- mine is my very special promise ring from my parents; and a key necklace from my Marmee... Jesus truly has the key to my heart. I want to be so lost in Him... that I never want to leave... captivated by Him. And oh- I am so in love with Him already.
However, I thought it would be fun (for this week) to have a sort of "reminder." I searched on Etsy, and found this absolutely lovely 'Purity White' Necklace: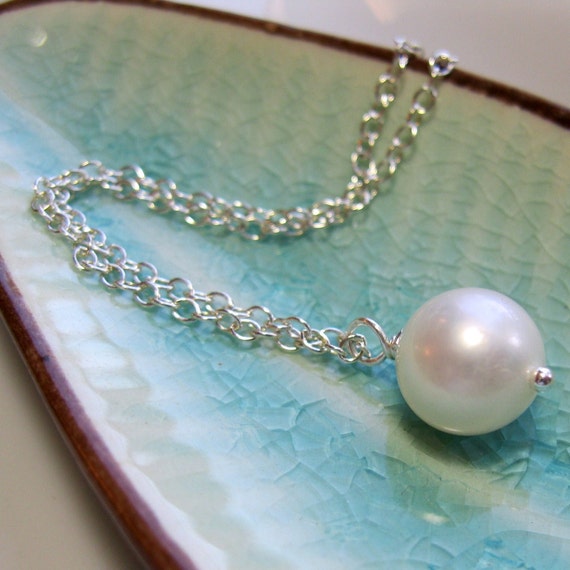 And one of you will be able to win it, thanks to the gracious sponsorship of
Susi D Jewelry
. It is a beautiful freshwater pearl.
Now, I don't know about you, but pearls to me are a symbol of perfection. I know that now, I am not perfect- and I never will be. But that doesn't mean I can't follow in Jesus' steps to the best of my ability as His servant. And one day, when I do meet my Savior face-to-face, I will walk through those gates of pearl... as a new creation, with all old things passing away.
~*~*~*~
~To Enter~
-Mandatory-
1) Share (via comment) what your standards for purity are. You can take from a sentence to a paragraph- as elaborate or as simple as you'd like (+1)
2) Visit
Susi D. Jewelry
, and comment on your favorite two items from her shop (+3)
3) Follow ~His Handmaiden~ if you have an email account that is compatible with the follower's gadget. If not, just subscribe via email=) (+2)
-Extra-
1) VOTE for me under any of these categories:
2) Leave a maximum of five comments on this blog (+1 per comment)
4) Post my Purity Week Blog Button on your sidebar (+1)
5) Post my ~His Handmaiden~ Blog Button on your sidebar (+2)
6) Purchase something from Susi D. Jewelry (Christmas is coming up... just sayin';) (+10)
7) Post about this giveaway on your blog (please leave the link=) (+2)
The giveaway will close Novemeber 30th at midnight, EST.
~*~*~*~
There~! You have six mandatory entries, but you can increase your chances with the rest of 'em! I would be so honored if you would do the first one in the Extra entries.
~*~*~*~
Now, Friends, to conclude Purity Week...
Remember-
A pure heart is one to which all that is not of God is strange and jarring. ~Tauler
Last night, I wrote this little poem/who-knows-what (it's not in any particular rythym)... or rather, Abba gave me thoughts that spilled over, and I had to scramble to find my writing materials. It is not based on experiences... but how my heart breaks for those who has gone through the first two paragraphs...



I pick up the pen, my own love story to write... five hundred words or less.

I tried to dream up a beautiful life, but it became a mess.




First, I'm a princess, I wake up each day

with a song on my lips--

a smile on my face.

One day my prince comes,

sweeps me off my feet;

but alas! not true.




A soft breeze blows, as he waves goodbye with his hand- in it my last red rose.




Next, I was a fair young maiden;

knights jousted for my hand.

But a few hasty turns, the tears that fell burned, as I was outcast in shame.

The one that I thought loved did not really love me,

but too late from the character I flew.




Lastly, I wrote, I was a simple little girl, gazing at a rough wooden tree.

Yes, there He was, the face I loved and knew, hanging there, gazing back at me.




Love in His eyes, peace in His face,

a tear slid down my cheek.




Because, some way, somehow, I saw in my heart, my true First Love died for me.




"Never again!" I burst out

"will I write my story of love!" For I have found out, through tears and from doubt,

that the truest love comes from above.




So...

I handed over the pen to my Father- He is the only One for sure.

He gives me a smile, as He hugs me, His child. He says, "Before I had made you, and fashioned your heart, I planted a seed for Me.

My own precious daughter, won't you give Me the pen, let Me write your love story, truly?




He mapped out a path, and i opened my eyes with wonder and asked,

"How can I travel this journey? How can i complete the task?"




"Look at the story you wrote, my child, the one that you fantasized. Out of all the stories in your little book, which one in you heart did true love arise?"




"The last one," I answered, trustingly; there was kindness in His eyes.

"My daughter, that was Me," He said,

as a catch rose in my throat.

And I know now you realize, that true love begins with the Man on the cross, with compassion, and peace, in His eyes.




I looked at my Abba, so still, so calm, saw what He said, and believed.

I handed Him the pen, no longer my own.

And that day, we began-
I following, He leading

the life He's planned for me.

I would like to close with this video/trailer:
"Purity is not a line, a boundary that we are called not to cross...it is a lifestyle we are called to live." "How we walk towards that altar, how we prepare for that marriage, will influence what comes after."
In the words of my friend,
Melanie
, Purity is not a line, a boundary that we are called not to cross...it is a lifestyle we are called to live." If only we understood this, and walked in the truth from the depths of our hearts. It's a lifestyle, wonderful, and yes hard--as the young woman mentioned-- but it is a
joy
. Because as we seek to live lives that are holy and undefiled before our King, we will get to know His heart and love Him more and more.
The temporary relationships of this world... yes, they do bring momentary pleasures... however, they do, as well, leave people wounded, misunderstood, broken... unsatisfied for more.
But, my friends, OH! When Jesus writes a story, when Jesus works within two people, when Jesus wins two hearts, and then brings them together to serve Him...oh! What beauty is come.
I want Jesus to write my love story.
What the last young man says brings me to tears...
"You know, for me there are two people that can have my promise ring. The first person I hope is my future bride. When I can look her in the eyes and say, "You know, I loved you so much, I was willing to wait just for you." But if that day doesn't come and I die young, then the second person who can have my ring is the mortician, and he can pry it from my cold, dead hand. Because there is no other way my commitment is going to end; you see, it's either until marriage, or until death. And it's that commitment that is used to honor God; that's why I do it. Because, if I do die young, I believe that someday I will stand before Christ and He'll say to me "You know, in your life, waiting wasn't respected. You were mocked for it, it wasn't appreciated, and in large, in many ways, it went unnoticed. But I noticed. And to Me it was a holy and acceptable sacrifice. Well done, my good and faithful servant."
Those are seven words I want to hear more than anything else on this earth.
Has he captivated your heart more than anything else that this world can give us?
He has captured mine. Now, will I rest in Him... for He makes all things beautiful in His time.
Thank you everyone, so much, for participating in Purity Week. Many blessings <3
P.S. -
This
lovely lady is having a giveaway=)